Hi! I'm Charlotte, innovative, creative and hard working.
I have been creative from an early age; winning Miss Bunny's kindergarten painting prize, aged 4 years, in California.
This love of art led me to study and complete a fine art degree at Exeter University in Devon.
After this I followed my interest in flowers and developed my practical skills and knowledge by working in a florists.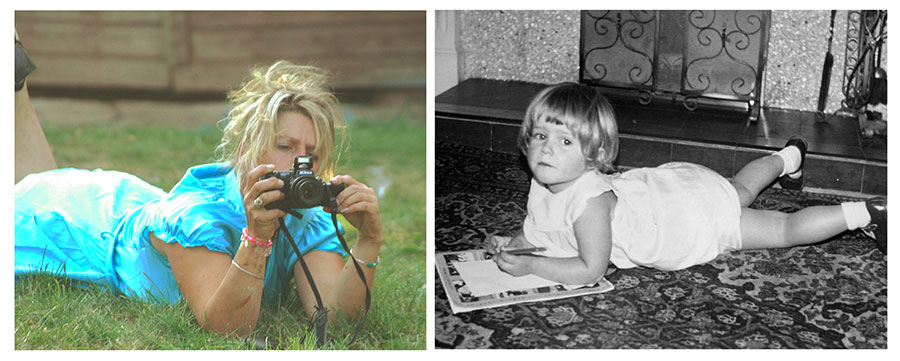 I also approached an independent designer clothes shop in Exeter and took on their window displays.
My striking and original displays won several awards including 'Drapers Record' Independents awards and this led to an interview broadcast on the 'Clothes Show'.
I went on to run my own interior design shop, 'Interiors at Willys' in Exeter, selling all things hand crafted and eclectic.
This led to me working with Virgin Atlantic for 15 years; creating Christmas displays in their VIP airport lounges and producing some original artwork and schemes.
After running the shop and being involved in various interior design projects I formed an all female decorating company with some friends based in Devon. This is successful and fulfilling and has even taken us to Sydney, Australia to install original artwork.
The Pretty Painting Company is run alongside Flowerswork and I also get involved in other creative projects. They often end up interlinked and combine my various talents.
I have settled in Devon but have travelled widely and lived abroad.
Welcome to my three in one website.
Please take a moment to look at the wide range of creative work I can offer.
"It's a Charlotte thing."
Design, display, styling, original bespoke fabric & artwork and project management.
Pretty Painting Company:
interior & exterior decorating, renovation projects, wallpapering, specialist paint effects and decorated or distressed furniture.
Flowerswork:
All things floral – from bridal flowers, funeral sprays & church flowers to decorating alternative venues and pop up restaurants.
Please contact me on any of the above.